Malaysia's Global Sadaqah eyes 100% more Islamic social finance funds this year after own fundraising
---
Malaysia-based Global Sadaqah is eyeing a 100% growth in Islamic social finance funds it will raise this year after it successfully received 450,000 ringgit ($110,932) for itself.
The fintech start-up raised its first external investment for itself recently during a 72-hour flash-fundraising campaign on Islamic equity crowdfunding platform Ethis Malaysia.
The money it raised for itself will go towards developing "emerging technologies", including a central dashboard with detailed analytics, a fully-automated campaign onboarding with AI-based compliance, multi-currency and localised payment systems support, and blockchain and subscription services.
Global Sadaqah told Salaam Gateway it now has its sights on raising 3.6 million ringgit this year from corporates and individuals. The funds raised, whether zakat or sadaqah, are distributed to eligible campaigns and programmes.
"One of Global Sadaqah's biggest goals this year is to be the 'top-of-mind' platform for corporate donors," a spokesperson told Salaam Gateway.
Corporates make up around 70% of all donors via Global Sadaqah, with individuals making up the remaining 30%.
"We will be focusing efforts to reach out to more corporates and by leveraging on our existing network/partners to connect to a wider audience," added the spokesperson.
The start-up raised 1,822,758 ringgit ($453,422) in 2020, a 178% growth compared to the 655,317 ringgit channelled through it in 2019.
The funds are raised via the platform as well as externally through partners. Global Sadaqah facilitates donations through 11 channels including e-wallet providers in Malaysia, Bitcoin and digital gold.
The most number of donors to the platform come from Malaysia but the highest total amount donated is from Singapore.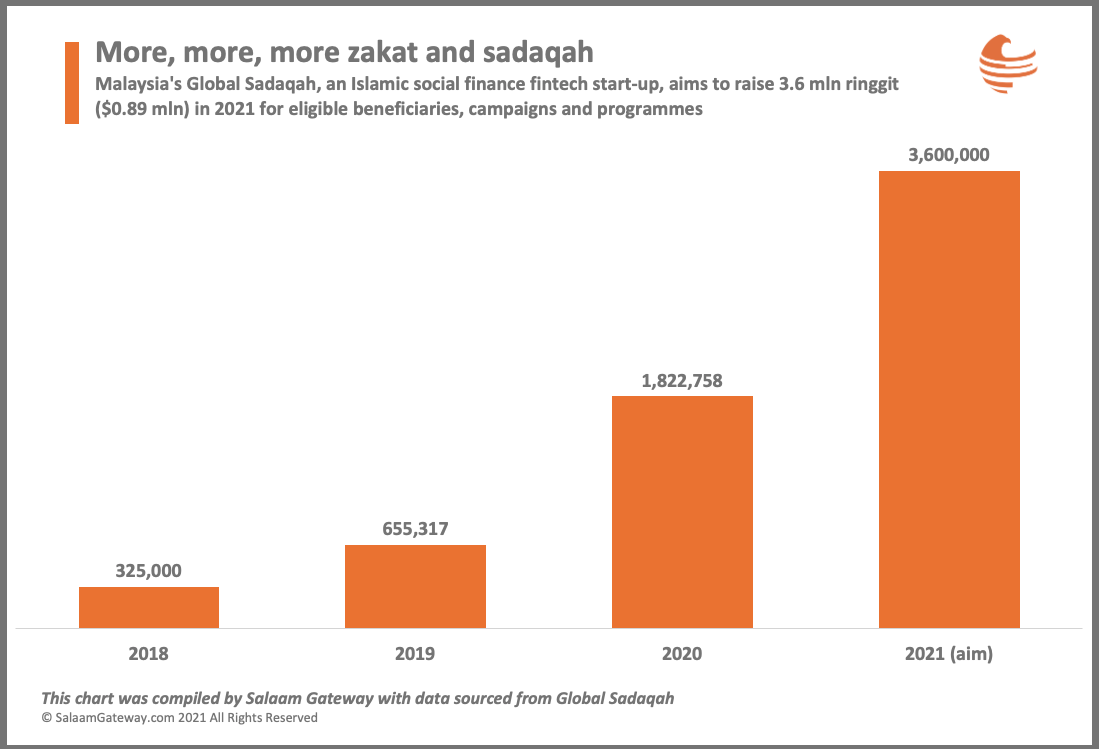 TRANSPARENCY AND IMPACT
The collection and distribution of Islamic social finance funds by authorities and organisations frequently come under attack due to the general lack of transparency. This is one of Global Sadaqah's key challenges.
The start-up says it applies a "thorough screening process" to verify its charity partners. Impact can be tracked through donor dashboards and regular updates on the progress and outcome of fundraising campaigns.
"Once the money has been transferred, our charity partners are obliged to provide regular updates and proof of how the money was utilised and what changes were made in the life of the intended beneficiaries," said the spokesperson.
"We track the work of a project from the initiation till its completion and mark the differences that have been made in the lives of the beneficiaries. Education and various trainings are also provided to these beneficiaries so that they can be empowered."
The main aim is to convert beneficiaries into benefactors and break the cycle of dependency that some people fall into because of donations.
Apart from raising funds for beneficiaries and charities, Global Sadaqah provides services including zakat management for high net worth individuals, e-drafting of wills, and Foundation as a Service (FaaS).
© SalaamGateway.com 2021 All Rights Reserved
---